GARNER Fiber Handheld Laser Marking Machine 20W & 30W
Product Title
Garner Fiber Handheld Laser Marking Machine/Hand Marking Machine/Portable Handheld Laser Marker 20W & 30W
Product Transaction Information
Brand: CYCJET
Factory Price: Negotiate
Supply Ability: 200sets per Month
Port: Shanghai
Payment Terms: L/C, Cash, Western Union, T/T, Paypal
Min.Order Quantity: 1 set
ODM & OEM: Available, depends on annual sale quantity
Certification: CE, SGS, FDA
Warranty: 1 Year
Place of Origin: China (Mainland)
Trade terms: FOB, CFR, CIF, EXW
Product Description
This Fiber Handheld Laser Marking Machine is well-known in some heavy industries. It is specially designed for some product which can not online mark, or the place is narrow that normal machine can not reach it. The working object is a heavy or bigger product, such as metal stick, metal block, truck tire, steel frame, machinery, automobile. The portable handheld laser marker can fix on the trolley and move to any place that needs laser marking, it is more convenient and easier for operation.
As a solid laser source, the main application of the fiber laser hand marking machine is metal marking, metal engraving, metal cutting, metal welding, etc. The working status is more stable and lifetime longer than the CO2 laser marking machine and UV laser.
4. Application of Handheld Laser Marking Machine
The fiber handheld laser marking machine can mark and engrave messages on different metal products, such as steel block, stick, steel brick, steel sheet, machinery, plastic injection molding, etc. This portable handheld laser marker can mark the unique message depending on customer requirements.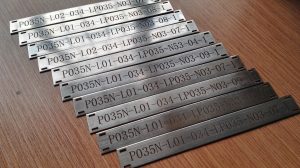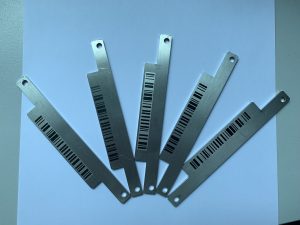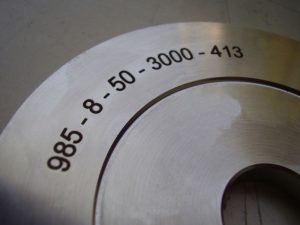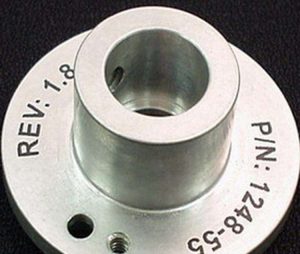 Tracking the tire sales territory and end-user become the trend in the truck and car tire industry. Tire manufacturers need to follow and control the sales territory to protect agent profits. The QR CODE is created by a hand marking machine, the code should mark deeply so the camera could easily read and upload it to the database for comparison.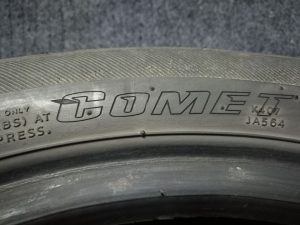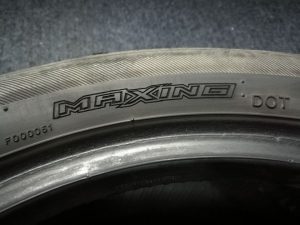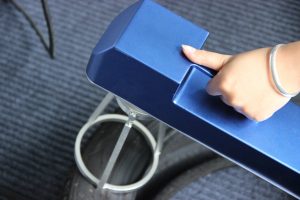 5. Technical Specification of GARNER Fiber Handheld Laser Marking Machine/Hand Marking Machine/Portable Handheld Laser Marker 20W & 30W
   Model       Item                                
GFH Handheld Laser Printer
PERFORMANCE
Frame Material
ALUM.
Laser Device
Fiber Laser
Power
20W/30W/50W
Laser Wavelength
1064nm
Galvanometer
deflection
High Precision dual dimensional scanning system
Marking speed
≤7000mm/s
Master Control
Highly integrated board with 10-inch Color Touch screen
Operating System
LINUX based with High-Speed Marking Software
Cooling
Air Cooling
Marking Specifications
Focus Distance
Focus 190mm
Marking line type
Dot matrix, bold, vector all in one (both dot matrix and vector)
Minimum line width
0.012mm
Repeatability accurate
positioning
0.003mm
Marking Area
Standard 110mm×110mm(Customized available)
Marking height
Standard Character height 110mm
Marking Length
Unlimited
Positioning mode
Red light positioning and focusing
Number of characters
Any line(multi-line) within marking range
Support type
Typeface
Chinese, English, available to customized
Marking
Number, logo, image, letter, serials number, system date & time, etc...
File format
PLT
Bar code
CODE39、CODE128、CODE126、QR、Z-Code
Others
Power Supply
100-220V/50-60HZ
Power Consumption
600W
Net Weight
40kg
Oversize
500mmX450mmX400MM
Environmental Requirement
0℃-45℃; humidity≤95%;    non-condensing; no shaking
The Quality Standard of GARNER Portable Fiber Laser Printer/Laser Coding Machine/Laser Marking Systems/Portable Laser Engraver Machine
GB 7247-87
Radiation safety of laser products, requirements for equipment classification and user's Guide
GB10320-88
Electrical safety of laser equipment and facilities
ISO 9000-3
International software standards
GB/T12123-89
Sales packaging process
IEC 536
Classification of electrical and electronic equipment for protection against electric shock
6. GARNER Fiber Handheld Laser Marking Machine/Hand Marking Machine/Portable Handheld Laser Marker 20W & 30W Details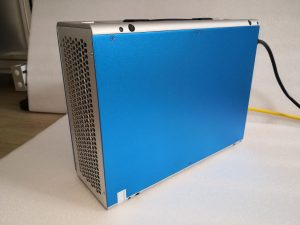 Fiber Laser Source: This portable handheld laser marker has a durable laser source, which could support 24 hours working. Output high-quality laser beam.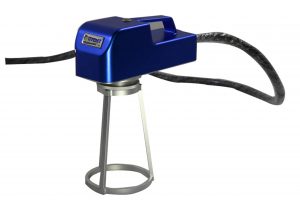 Handle and Auto Focus Frame: This handheld laser marking machine is very convenient to operate. Users just need to press the ring on the working object, then press the button on top of the scanner, then the hand marking machine will start to mark. It is ideal for the bigger or heavy object which can not move by human hand, or the normal laser printer can not reach, such as plastic injection molding, metal stick.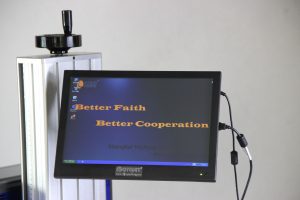 Industrial Controller: Professional laser marking software, to create and edit marking messages conveniently.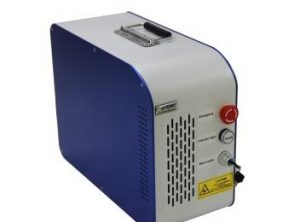 Indicator Light & Emergency Key: To show the working status and controller power supply of this portable handheld laser marker.
7. Packaging & Shipping of GARNER Fiber Handheld Laser Marking Machine/Hand Marking Machine/Portable Handheld Laser Marker 20W & 30W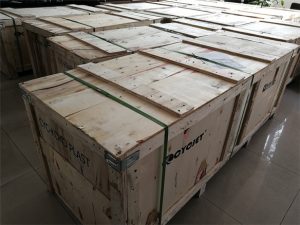 Packed by a brand new wooden case, the woods material proceeded by high-temperature steam. It can satisfy most of Country's customs requirements.
Size of package: 82*52*54cm, G.W: 65KGS
Communication and cooperation bring perfect close links and unlimited benefits.