CYCJET B6040 Inkjet Printer
1. Product Title
CYCJET B6040 CIJ Small Character Industrial Inkjet Printer
2. Product Transaction Information
Brand: CYCJET
Factory Price: Negotiate
Supply Ability: 200sets per month
Port: Shanghai
Payment Terms: L/C, Cash, Western Union, T/T, Paypal
Min. Order Quantity: 1 set
ODM & OEM: Available, depends on annual sale quantity
Certification: CE, SGS, FDA
Warranty: 1 Year
Place of Origin: China (Mainland)
Trade terms: FOB, CNF, CIF, EXW
3. Product Description
CYCJET B6040 CIJ inkjet printer adopts 13" color touch panel, what you see is what you get. The workers can input the printing information directly through the screen.
High-resolution display and a self-designed graphical user interface, users quickly reach the desired function, greatly enhance the operating time.
4. Application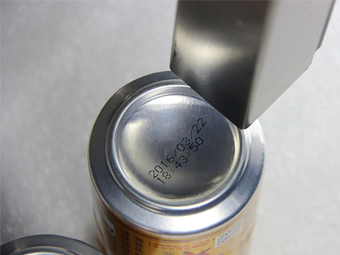 The beverage is fast-moving consumer goods, the obvious features of the production line are in flying speed, can be as fast as 300m/min. What's more, beverage packages are in a mass of different materials and shapes. That requests the continuous inkjet printer be in high stability and high speed. CYCJET B6040 meets these printing demands properly to provide suitable inkjet printing solutions to this industry.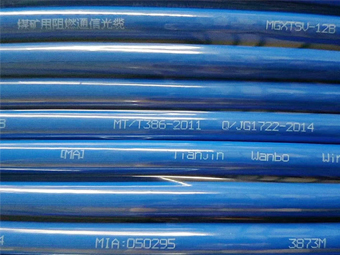 Cables are extremely important in all industries, in everyone's daily life. A clear marking on the cable will help to identify the different cables for different usage. The cable production line will keep printing for 7*24hours, which requires the CIJ inkjet printer in high stability. What's more, more cables are in mini size, less then2mm. The inkjet marking on it requests easy to read, white requests the mini font size but in clear and high-resolution. This is a challenge for most small character inkjet printers. CYCJET B6040 adopts gem nozzles, which make the font printing in high resolution.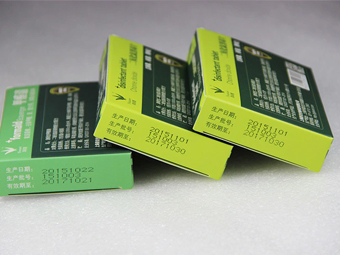 CYCJET medical-industrial inkjet printer is specially designed to meet the strict regulatory requirements of the medical industry. Even on low-cost carton materials, it can achieve the standard marking effect and enhance the advantages of the medical industry and surpass the competitors. CYCJET medical packaging inkjet printers cater to different customers, different production lines, and various types of coded materials.
| | |
| --- | --- |
| Type | B6040 CIJ/Small Character/Industrial Inkjet Printer |
| Operation Interface | 13" Color Touch Screen |
| Print Lines | 1-5 lines printing, offset function dot by dot, to achieve any editing, better meet customer editing requirement. |
| Print Speed | 5*5 dot-matrix fonts printing speed up to 345m/min |
| Nozzle System | Nozzle automatic cleaning function to ensure stable running long time, fully anatomical nozzle design, completely solve the persistent problem of nozzle clogging in the industry. |
| Ink System | Simple drawer intelligent ink system, ensure the stability of ink-system running, greatly improving the conveniences of maintenance. |
| Print Mode | Modular printing algorithm embedded technology, while ensuring optimum printing results and speed balance. |
| Display | High-Resolution display and a self-designed graphical user interface, users quickly reach the desired function, greatly enhance the operating time. |
| Font Type | 5*5, 5*7, 7*9, 12*16, 18*24, 12*12, 16*16, 16*32 printing |
| Software Function | The date and time automatically updated printing; continuous serial number, number of times to repeat printing, shift printing. |
| Printhead | The perfect nozzle design, greatly improving power on-off performance and continuous high-speed printing stability. |
| Electrical System | Integrated motherboard, reducing electrical fault caused by aging connectors. Printing parameters and content integrated storage, meet variety products convenient printing any time, reducing time wasted on editorial & adjustments, greatly improve work efficiency. |
| Software System | Independent R&D operating system, greatly enhances boot speed, reducing the instability due to other operating systems brings to. |
| Appearance Design | Electrical systems and ink systems are separated, avoid damage when maintenance and running machine. |
| Counting Function | Automatic counting and counting nesting. |
| Print Content | Date, serial number, the graphic can be edit by computer directly. The message, graphics, fonts can import or export via a USB flash disk. Bar code (128 yards), QR code printing, extensions function of computer on-line printing. |
| Memory Function | Built-in over six thousand Chinese characters, Pinyin input directly. Mass storage capacity, printing long messages, a huge amount of information storage, infinite extended memory via USB. |
| Customize Function | Super-flexible custom font capabilities, which can be customized special printing fonts & printing mode based on customers' requirements, improve security anti-counterfeiting, anti-regional dumping feature. |
| Others | Machine LCD panels with LED lamp screen, direct display real-time status with texts, easy to observe the workshop, also can optionally increase the warning lamp based on the requirement. |
6. Product Details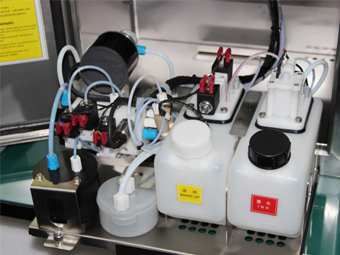 Ink System: Total sealed ink system. Special filter meets long-term working mode.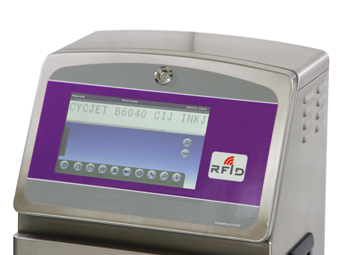 Controller: 13" color touch panel, WYSIWYG. RS232, USB interfaces. The controller is small in size, more flexible.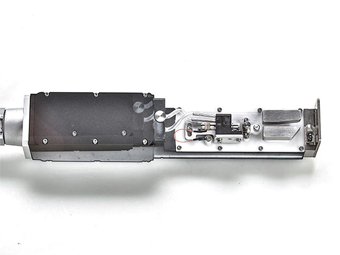 Print Head: Gem nozzles, good precision. Anti-block and self-cleaning design.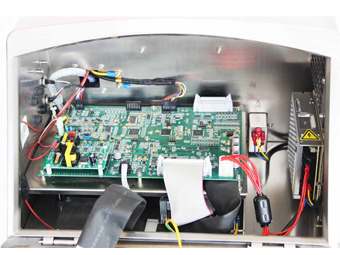 Circuit: Precise cables array makes sure that printer runs stably all the time. Insulation sealed design.
Communication and cooperation bring perfect close links and unlimited benefits.